From a flat county comes a club that wants to pursue the peaks.
by Gordon McCadden (of the LMC)
There's a little-known group that gathers infrequently at a quiet pub in uphill Lincoln. A diverse bunch from all sections of Lincolnshire society, they come together to plan their next adventure. Driven by a collective desire to climb and to roam the barren high lands of Britain, they are the Lincoln Mountaineering Club (LMC).
Dating from the early 1960s and affiliated to the British Mountaineering Council this lub has solid credentials, and a wealth of talent and experience among its sixty members.
They regularly visit Snowdonia, the Lake District, and Scotland in search of mountain challenges. Though much of the focus is on rock climbing and mountaineering, other related upland pursuits are actively followed, such as mountain/hill walking, ice climbing, bouldering, etc.
Amazingly for such a small club, the LMC owns an old farmhouse in Snowdonia, known - in mountaineer parlance as the 'hut'. The 'hut' is used as a base for members testing their mettle against the often bleak Welsh rock-faces and high mountain environment.
Mention the name of this little known this club to most Lincolnshire folk and you will be met with a quizzical look, followed by a sceptical smile. An understandable reaction in a county that's comfortable with its relative flatness. Lincoln is unlikely to ever be known as the Kathmandu of the West, even if a winter ascent of Steep Hill is sometimes worthy of Sherpa assistance.
However many residents of this county do possess an unbounded natural doggedness and drive, as we regarded as the Golden Age of mountaineering. In 1865 Hudson and his climbing partner joined with a group of climbers for an attempt on the Matterhorn, which was the only major Alpine peak yet to be conquered.
The party reached the summit but a group of four, including Charles Hudson, fell to their deaths on the descent. Another Lincolnshire notable was William Arthur Poucher (1891-1988). Born in Horncastle, he served with the Royal Army Medical Corp throughout World War One, and later became Chief Perfumer for Yardley.
Between the wars he developed a fascination for mountain landscapes and loved to photograph them. He published over 30 books of mountain photography as well as guide books to the Lakes, Pennines and the Peak District. In 1983 the British Mountaineering Council made a presentation in his honour "in recognition of his great service to the sport".
More recently a climber from Sleaford made the national headlines as one of the youngest to climb Everest. Matthew Dieumegard-Thornton, aged 22, reached the summit in May this year.
So it should be no surprise that the Lincoln Mountaineering Club exists and flourishes. Indeed, the fact that just reaching their revered mountains presents another obstacle to be overcome simply re-enforces the members' determination to get out there. They readily accept the hard physical effort of the push upward in order to experience both the elation that comes with high places and long drops, and the magnificent timeless panoramas that spread out before them.

Further information: www.lincolnmountaineeringclub.org.uk
IMAGE:
Spectacular: Crib Goch ridge on Mount Snowdon, North Wales.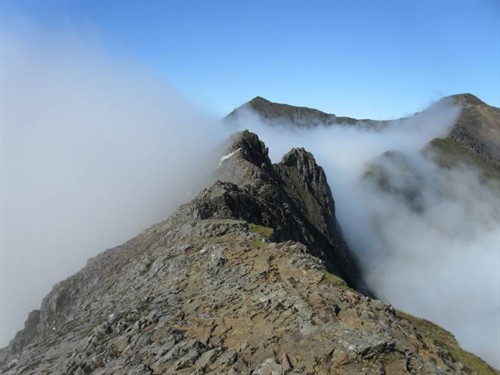 Article reproduced from the Lincolnshire Echo (Jan 3rd 2013) with permission.