LMC Wasdale Meet (FRCC Brackenclose Hut) - July 2018
The cloud swirled across the face as a shadowy figure slipped out of sight having made short shrift of the steep moves high above. The mist continued to drift in and out creating an eerie theatre to the events taking place on this majestic shield of rock. Hidden voices floated up from groups of walkers on the well-worn path below; each making their way up another weekend peak (it's Saturday today, so it must be Scafell Pike, yes?), all blissfully unaware of the rope strewn teams that lay beyond their grey canopy. Anticipation swelled as a simple message drifted calmly down the face "Safe Neil", within seconds came another clear signal, "Climb when ready". More anticipation but I was soon moving, embarking on a journey I had wanted to make for over 35 years. A brief but timely opening in the clouds revealed the entire magnificent face, centre stage the 'money pitch' of Saxon, time to act. Small dabs of chalk now marked the way up one of the best E2 pitches in the country, I quickly glimpsed the much talked about bottomless crack suspended high up on the wall, this was my target and would be the way out to re-join Michael.

I climbed stiffly up and then slightly left to recover a strategically placed runner, full commitment was now going to be required along an airy and rising traverse line to the right (barely protected by small wires). The line was steeper than it looked but across I went, 3 or 4 sideways moves culminated in a long stretch to reach a good set of in cut holds. One more move on tiring fingers and then a big heave onto a small ledge perched on the very edge of the face. Another break in the cloud provided a chance to appreciate the lofty position I was now in. Back on the face more small but positive holds led up and left, recovery of the occasional runner also helped to keep me busy and I was soon (and unexpectedly) at the foot of the looming crack. The next move (the crux) albeit safe is not blessed with positive holds and baffles many that find themselves in this place. "Don't want to fluff it now so come on, concentrate, work it out, don't dally" came the reassuring words from my inner coach. For me this meant starting on the left using a vague undercut for the right hand and a high flared jam for the left hand, trust… commit… step up… maintain body tension… lock… reach… and bang, a good hold and a smile. A few more steep moves up the crack and I was soon pulling onto the belay ledge welcomed by Michael's toothy smile.
I had led the first pitch (quite committing in places but good protection where needed) so I zoomed off up the 3rd and final pitch which has a lot to offer too. Three dimensional type climbing and some strenuous pulls up a couple of grooves led out onto a superb but short face; a steep arête followed depositing me on a generous ledge with only a brief scramble to the top. The air temperature was now rising and starting to burn away what was left of the mist, below us the whole of Scafell Crag was now being revealed in its true glory.

There it was, in the bag, Saxon a long held dream that did not disappoint; we agreed we had just climbed a fantastic route, better not wait so long next time eh! I thought I might feel sad at some kind of loss but all that crossed my mind was - could I have led that superb 2nd pitch, a brief pause and out came my own cheery response "Yeah, of course I could". "Did you say something Neil"; "Erm… no Michael only… erm…. do you fancy The Nazgul" ; "Ok bud" was Michael's immediate and near casual response as we set off to find the decent path and this servant of terror.

Meanwhile Eugenie and Tom had taken on the challenge of the mega classic of the crag Central Buttress. The iconic 'great flake' pitch being first led in 1914 by Siegfried Herford supported by George Sansom and Cecil Holland. Tragically Herford lost his life in the Great War at the age of 24, very poignant as 2018 is the 100th anniversary of the end of the war. This E1 weaves its way across the face in 5 pitches, good route finding skills and slick changeovers are advisable and make the journey a lot easier and less time-consuming. This young team were not yet blessed with such skills and found themselves acquiring them on the route itself - the outing would indeed take some time!

As intended, ropes were soon uncoiled below The Nazgul a much prized E3 . I set off on pitch 1 which proved ridiculously graded at 4a, the steep start (at least 5a) led to some grass pulling before the angle eased and I was suitably positioned on the first stance. I craned my neck backwards and slowly shook my head from side to side in an unbelieving manner, by 'eck it was steep. Michael had seen this exaggerated display from below and now wondered what the heck was laying ahead of him on the much prized crux pitch.

Across on Pikes Crag, JO (John Oaks), Ron and Ally were enjoying Wall and Crack Climb, a long route graded VD up the left side of Pulpit Rock. By now they had a grandstand view of Scafell Crag with Michael launching himself up the overhanging crack and tackling the challenge of this mythical beast. Place good gear, commit to a long powerful move, pull through, sort feet out, catch breath, prepare and repeat. Michael stayed focussed and in balance all the way, and despite a tricky exit via a short groove soon had another marvellous pitch safely under his belt. I followed on in less than top form but did manage to hang on in there to complete the task ahead.

On Pulpit Rock Ron was out front leading pitch after pitch, he was well and truly back on 'Rocket Ron' form after recovering from a foot problem and a longish lay-off. Ally was finding the going tough, mainly because she was carrying 3 pairs of heavy walking boots in her rucksack; this portering service would make life easier for all on the descent from the crag but for now it meant some overly strenuous. On successful completion the team picked their way down via Mickledore and then circled back to the sacks at the bottom of the route. It was not long before they were heading down to Brackenclose for well-earned tea and cake. John and Ron had actually walked all the way up to this point the previous day (Friday) only to be rained off; the day before that they had been over the other side of the Lake District trying themselves out on some long ridge scrambles, all in all quite an energetic start to the weekend.

Meanwhile, back to adventures on Central Buttress; Eugenie and Tom were finding the route very interesting so much so that they proceeded at a very leisurely and thoughtful pace. Good multi-pitch discipline was the order of the day as they checked; double checked then checked again that their belay stances were safe and… that they were still on the route they intended. Much conversing took place throughout as they deliberated, agreed, disagreed and then agreed again where the route actually went, or they thought it went! Due to the relaxed nature of the accent various picnic breaks were taken along the way, plus a number of discreet pee stops were required to help maintain focus. Oblivious to time and undeterred they soldiered on, culminating in Tom straightening out pitch 3 of CB and going up the delicate and poorly protected 5b pitch of The Nazgul. Eugenie struggled to follow this pitch and Neil decided it was too dangerous to attempt as a lead, this was a bold 'off route' excursion by Tom. All four of us eventually gathered below the final ramp line of The Nazgul (now also a popular exit for CB) and had shared in some and jovial banter about what we had been up to. By the time we eventually topped out Eugenie and Tom had been on CB for over 9.5 hours, commitment to the cause or what!
Phil and Joe had been no slouches on 'Super Saturday' either, they had climbed Botterill's Slab, a compelling VS first done in stout clothing with hawser laid rope in 1903 and still no pushover. They then moved further right and tackled the magnificent Moss Gill Groves, again at VS, first climbed between 2 world wars. So pleased were they with Botterill's that they then went back and did it again, in total completing 253m of 3 star climbing, a grand day out on a grand mountain crag.
Forgot to say, Neil, Michael and Eugenie, plus Phil and Joe travelled up early on Friday; wanting to avoid getting wet they visited Trowbarrow in Lancashire, a well-positioned crag in the rain shadow of the Lake District. This quarry sits in a beautiful wooded location and is close to Leighton Moss, a well-established RSPB nature reserve that seems to be popular with BBC film crews. Michael jumped on Alladinsane at E1 and then virtually jumped over the overhang on Warspite Direct at E2. Neil couldn't handle the upper hand jam on the latter and after a couple of attempts sagged on the rope, Eugenie fared better benefitting from her wall honed forearms. The jam was so painful that even to this day Neil has numbness (aka nerve damage) down the side of one finger. Phil and Joe climbed the excellent Hollow Earth, a confident lead by Phil, they then went on to do Assagai another HVS 5a on an amazing wall fringed by a line of incredible flutings.

Also out and about on Friday was J (Jonathan) and Rachel, they stopped off at Hare Crag in Eskdale and waded through waist deep wet bracken to climb Slab Route a Severe, a kind of gear then no gear trust the friction kind of route. They also took a look at Fireball XL5, but it was getting late by then and a pizza at the Woolpack Inn was calling, next time! On Saturday they plodded up to Great Gable with hearts set (again) on climbing Tophet Wall at Hard Severe, the weather conditions at this aspect and height were not favourable so then wandered along the climbers traverse and down again, all in good time for dinner.

Back to Saturday, JT (John Turner) walked over the Screes (Illgill Head and Whin Rigg) and in the process was passed by competitors running the Wasdale fell race, he returned via Miterdale which is worth exploring if you are ever in the area. The Wasdale is one of the bigger races in the Lake District, 34k and 2750m of ascent, the current record is 3hrs 25 mins, it follows a cracking route whether you are running it or not. Interestingly the building next to Burnmoor Tarn appears to be in the process of being renovated, despite its remote and spooky location on a mediaeval corpse road - how on earth did they get all that scaffolding up there.
Nick and Sheila took charge of the superb communal dinner on Saturday evening which everyone enjoyed immensely. Pleased to say, they were not tied to the kitchen all weekend and headed out on Saturday to follow Nether Beck from Wast Water as far as Little Lad Crag, from there ascended Red Pike via Scoat Tarn. They had the whole valley to themselves having not met a single soul all the way up and after leaving Red Pike (in the cloud) returned to Wasdale (and sunshine) via Dore Head.

Sunday was a claggy day high up but despite this Michael, Eugenie, Neil and Tom headed back the big hill with mixed results on the East Face of Scafell. Michael jumped on the 'wake up' start to Leverage and soon found this E1 a bit of a handful at mid height; a surprising fall from a bulging section had him rethink his approach. Deep breath, stay focussed, stick those sketchy moves and thankfully he was through the challenge without further drama. Tom followed on up with a snug rope and then took over on the easier 2nd pitch ending at a well rigged abseil station. Back on the ground they strolled along to the classic E2 Ichabod, this single pitch route really packs a punch. Despite hesitating Michael was encouraged across the infamous and committing traverse by advice from nearby climbers and by finding an additional piece of (key) gear. Despite all this cragging activity, Neil and Eugenie were not feel'in it (as they say) and opted for a leisurely walk back down to the hut empty handed, well nearly. A few meters away from the crag Neil stumbled upon a jacket tucked away in a dry-bag; upon return home and after a quick shout out on UKC it was soon reunited with a very appreciative Mr D McLeod of Glasgow.
On Sunday Nic and Sheila took a gentle amble up to Lingmell Coll and after leaving the crowds marching up Scafell Pike followed the relatively quiet, but atmospheric Corridor Route along the flank of the mountain. Once at Sty Head they headed back down into Wasdale completing a fine couple of days in and around this great valley.
J and Rachel had intended to do an outlying Wainwright on Sunday but parking proved a problem so went on a few miles and walked around Cogra Moss reservoir at the foot of Blake Fell, it was then home via the A66 avoiding the mess that was the M62. Meanwhile JT was taking a mosey up Mosedale and then before heading home on Monday had a short walk near Newby Bridge which took in the nature reserve of Rusland Moss.
The author is a bit short on detail but believe Neil and Mary-Ann had a good weekend walking and scrambling the local fells, making the most of the location despite the sometimes damp and greasy conditions on the rock. Hannah and Matt had a mixed bag of a weekend including an abortive attempt at Napes Needle and (I think ) a trip to the idyllically placed Brantrake Crag on Sunday in the company of JO and Ron.

Attendees: Michael Teanby, Eugenie Blyth, Tom (Admiral Lord Faffington) Redwood, Joe Mills, Phil Shaw, Nic Hill, Sheila Palmer, Jonathan & Rachel Shaw, Neil & Mary-Ann Mahon, John Turner, Alison Wright, John Oaks, Ron Crowe, Hannah Watson, Matt Roope and Neil McAllister (me).

Thank-you to all who attended and made this such a worthwhile meet.
Neil McAllister


FRCC Brackenclose Hut looking towards Scafell Pike and Scafell Crag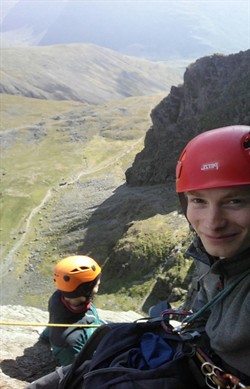 Eugenie & Tom high up on Central Buttress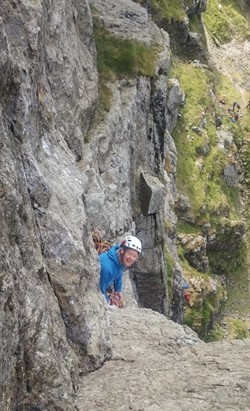 Neil Mc below the final ramp on The Nazgul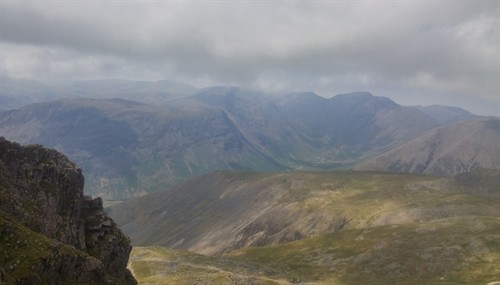 Looking towards Mosedale from Scafell Crag with Pillar back right