Duncan Beard and Dave Smith completed the traverse of the Cuillin ridge of Skye on Thursday 28th / Friday 29th July 2011.
Dave attempted it 2 years ago with two good climbers but failed and bagged off just after the In-Pinn. The failure was the result of navigation errors and having poor / heavy gear, compounded by the long slog in to Coire a'Ghrundha from Glen Brittle in very hot weather.
Prior to the trip Dunc spent a great deal of time researching the route including buying Andy Hyslop's downloadable guide from Rockfax, downloading Mike Lates advice and reading and copying route instructions from Gordon Stainforth's superb book 'The Cuillin'. From this we elected to follow Mikes advice regarding doing it over two days and what to take, with Gordon & Andy's detailed route instructions.
Because of the issues Dave encountered the first time he attempted it, we decided to have 2 practice / reccy days (Sunday / Monday) to practice the T-D Gap and Naismiths route up the Basteir Tooth. We also wanted to practice the middle part of the ridge, which is by far the hardest part to navigate (especially in cloud / mist). This was very beneficial. However, Naismiths route scared the life out of Dave on viewing it and he decided there and then that he was not going to climb it, so we never even attempted it. Dunc was a bit disappointed as he was looking forward to having a go at it (sorry Dunc!). As it turns out, there is a very good reason for climbing it which you will see later. We then planned to have one rest day and then go for it on Wednesday. However, the weather had different ideas. The weather forecast predicted sunshine for Tuesday but rain for Tuesday night / Wednesday. The weather for Thursday was cloudy but dry and sunny intervals for Friday. So Thursday / Friday it was. The fact that it was overcast was good in one way as the 2 reccy days were very hot and we used a lot of water. The downside was that navigation would be a bit harder.
Starting from Elgol was atmospheric. First we left Sligachan campsite about 9:10am on the bus to Broadford, then we took the next bus to Elgol. This road is mostly single track and goes up and down a lot. The driver has to work hard on this route! We took the 'Bella Jane' boat from Elgol about 11:45, the one way trip costing £14 each. The buses cost us over £6 each so total cost of this start was over £40.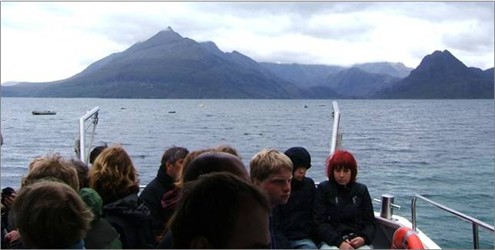 The start from the landing stage (near the Coruisk hut) is not obvious, we set off in the wrong direction toward the loch resulting in losing 20 minutes (not a good start!). The best advice is to follow the shore left past the Mad Burn then ascend the steep hillside, contouring left past a near vertical rock step. There is no visible path. We started the climb up Gars Bheinn at about 12:30, taking the ridge between two corries until we had to traverse right under Gars Bheinn's very steep headwall then left up a short gully to just north of the summit. Dunc found the initial ascent very hard carrying 10kg of pack as he was under trained for various reasons. It was a grey day under light cloud, which kept it reasonably cool. Dave did not seem very confident of the chances of completing the ridge. Dunc thought we could because was he very determined, knowing if we didn't do it now it would have to be next year, and confident that Dave was fit.
Looking back to the landing stage from about half way up: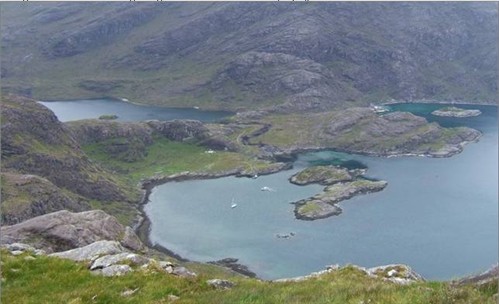 We got to the summit about 2:30 which was quite good going considering how much of a slog it is from sea level to nearly 3000ft. Dave reckoned we could have done it in better time (maybe ½ hour quicker). However, saving ½ hour here would use so much energy you would lose more time than this later in the traverse do to lack of energy.
This is later than it would have been if we had started at Glen Brittle at 04:00 / 05:00, which would have got us to the ridge above Coire a'Ghrundha at about 09:00 / 10:00. So we lost time, but more importantly, saved energy. The trouble with starting at the top of Coire a'Ghrundha is not just the long walk in, but the fact that you have to walk to and return from Gars Bheinn (over Sgurr an Eag) thus having to do 2-odd miles of back-tracking. Ok you can drop your packs at the top of Coire a'Ghrundha, but even so, it is still wasting time / energy by walking part of the ridge twice. So all in all, it is better to start with the boat.
Alternatively we could have got the boat and stayed the night at the bothy near the landing stage in Loch Coruisk and started early the next day.
Anyway, the first part of the ridge is quite straightforward for navigation and fairly pleasant over Sgurr a'Choire Bhig then over Sgurr nan Eag.
Looking back to Gars-Bheinn.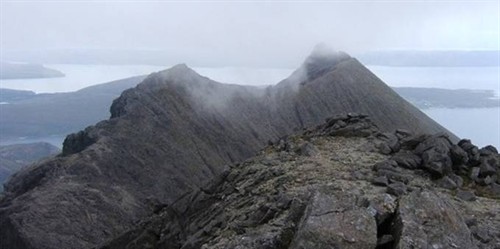 Next we bypassed Caisteal a'Garbh-Choire to the right then traversed Sgurr Dubh na da Bheinn just below it's summit. At this stage Dunc was starting to feel quite tired. We didn't go out off the main ridge to Sgurr Dubh Mor as we have both been to it before.
Sgurr Alasdair left and Sgurr Thearlaich right, top of Great Stone Chute in between: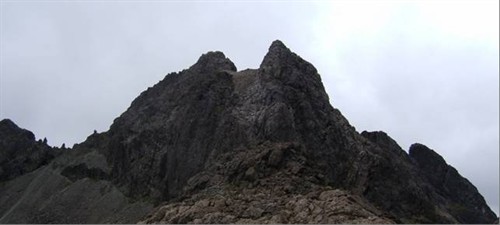 From Bealach Coir' an Lochain we bypassed the T-D gap. Dave had clearly stated he did not want to climb it ever again, having climbed it on his last attempt and knowing how awful a climb it is. Dunc has climbed this and would grade it as Tough Severe! Bypassing the gap is not really a cheat as if you do climb it you then have to move off the main ridge to summit Sgurr Alasdair, then backtrack to the ridge again. It is feels natural to skirt round the bottom of the T-D Gap and the SW side of Alasdair to Bealach Sgumain (path visible above), climb Sgurr Alasdair then descend back onto the main ridge via the top of the chute with no back tracking required.
The bypass route to Sgurr Alasdair is quite reasonable unless you try to ascend the west ridge direct where there is a 'Bad Step'. Dunc had some inner amusement watching Dave trying to figure out how to get up the step, Dave claiming he got a non-climbing friend up it back in 2005. It's probably about Severe & we could have done it with rope & gear but we couldn't be bothered. There exists an alternative route up an easy chimney down on the right. This was duly climbed and turned out to be fun and easy, with simple scrambling to the top of Sgurr Alasdair following.
View north from Sgurr Alasdair, the ridge from Sgurr Mhic Choinnich coming in from the lower right. Spot the obvious notch near bivvy site. Yes it does look much steeper than it was!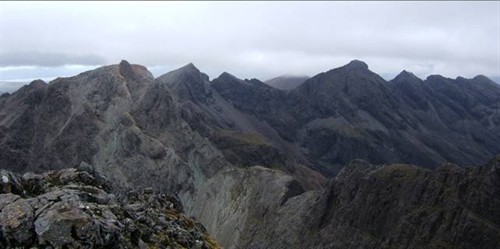 Looking back south from Alasdair with Sgurr Dubh Eader da Bheinn left and Sgurr nan Eag and Coire a'Grunnda right: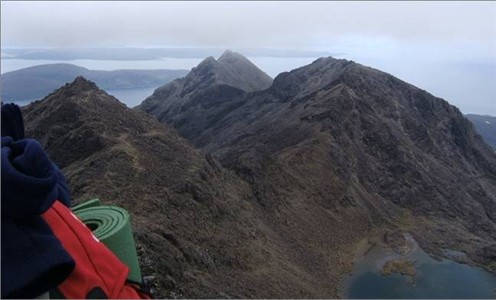 After Sgurr Alasdair we scrambled up Sgurr Thearlaich and descended the cunning easy way on the right, avoiding a tricky downclimb / abseil, although Dunc unfortunately lost his spare water bottle at this point, it came out of the rucksack side straps and bounced a long way down out of sight into a boulder field.
It was now becoming quite a bit colder and getting duller and as we seemed to be alone on the ridge the atmophere felt quite serious.
The next hard bit was King's Chimney, which is a 20m Diff climb that avoids the long and exposed traverse of Collie's ledge (which Dunc insists should be called Hart's ledge as Mr Hart was the first to use it). Dunc led this, with loads of grunting and expletives, which whilst amusing, did not fill me with confidence as he is a better climber than me. Dunc claims that the difficulties were caused by having a bed roll on the left of the sack which he felt made it more like Vdiff. After topping out he shouted down that it was a lot harder than the grade, which didn't really help my mood! But I climbed it in good style, with a degree of grunting but no expletives (a first for me, as I usual swear like a trooper when struggling!).
View from the belay, you climb the steep crack above the boulder to the overhang then traverse out right and up again (not visible):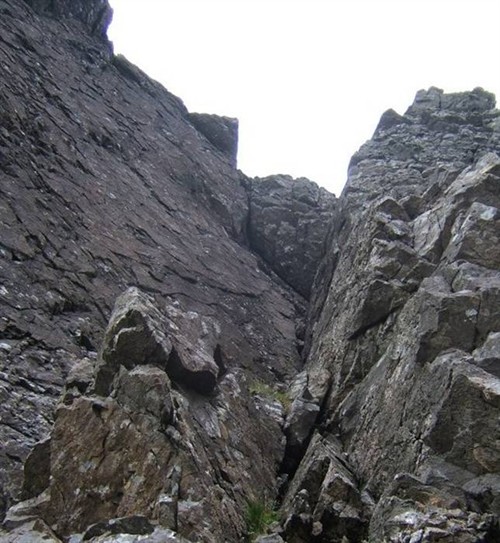 We got to Bealach Coire Lagan about 20:00. We had wanted to keep walking to about 21:00 / 21:30, but after some debate we decided that we would bivvy here for the night. This was down to the fact that we had found a very good bivvy site, and that we could not easily reach the next bealach before night fall (as we would have to have traversed An Stac and the In-Pinn). Plus, someone had to get down off the ridge to fetch water and get back before dark. Also, Dave knew from his last attempt how long it takes to cook some food and set up a bivvy.
The site we used was excellent; a semi circular wall against the hillside with a flat grass and earth floor, just to the north of a prominent notch in the ridge. Dunc improved the bivvy wall and put a tarp over it whilst Dave, despite claiming he was knackered, decended the 200m or so into Coire Lagan to collect water. This should have been 6 litres (2 in each hydration pouch and 2 one litre bottles). However, only 5 litres was collected as Dunc had lost his bottle (no pun intended) whilst scrambling earlier. So we would have 2 litres each for the next day and 1 litre to last us the night. It would be close, but given the cool conditions, it was doable.
Dave got back about 21:30, and after noodles and diced sausage it was time for bed as the temperature was dropping rapidly. We decided to not bother with a hot drink as we were too tired and the light was fading rapidly, which was a shame as we were really looking forward to a hot chocolate. Dave was dreading the bivvy as last time he did it; he got virtually no sleep due to uncomfortable ground and the wind howling all night. However, this bivvy went brilliantly, as the bivvy site was great, there was virtually no wind and it was nice to experience total silence.
In fact, we both slept so well we were awoken by our alarm at 06:00. This came as a surprise to Dave as the last time he was awake more than asleep. Dunc was also surprised to wake up feeling fine. We were packed in good time and away by 07:00.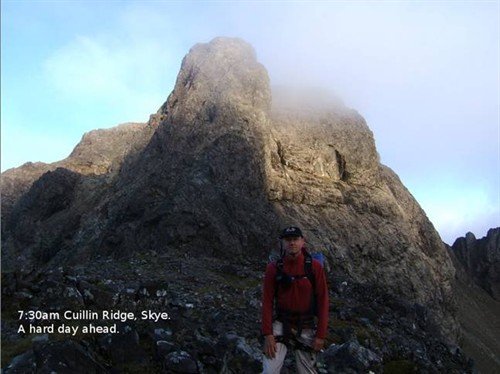 The grade 3 scramble up An Stac was superb, as was the climb up the In Pinn, both done with the sun breaking thru occasionally. The last time Dunc climbed this was his first ever rock climbing lead in 2005. This time there seemed to be a lot more useable holds at the crux!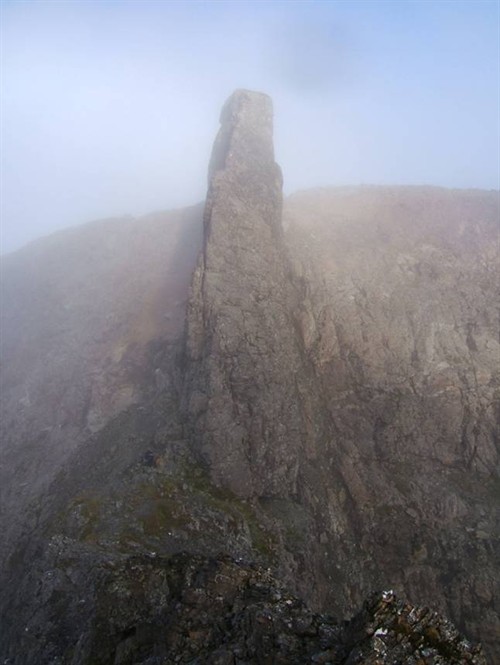 There were no queues at the In-Pinn at that time of the morning and we climbed it and abbed off smoothly and speedily. In fact, we only saw 4 other people on the ridge over the 2 days, which was kind of strange.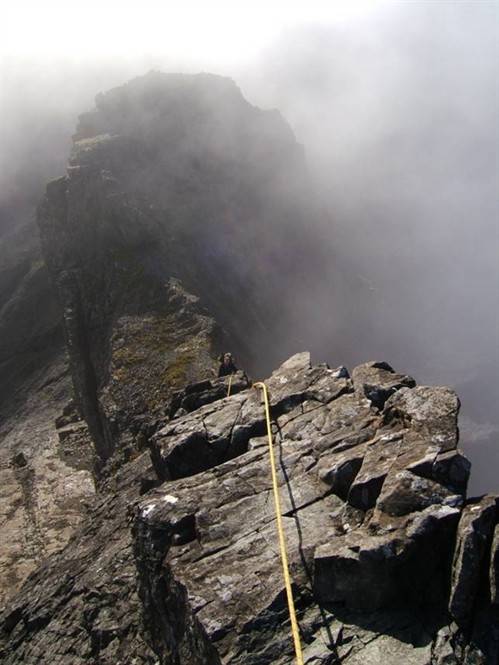 After this the descent from Sgurr Dearg led to Sgurr Banachdich which Dave had done before but, for Dunc, it was unknown territory. All the mountains of the centre of the ridge have multiple summits and as we were now in fairly continuous cloud it was somewhat confusing knowing exactly where we were.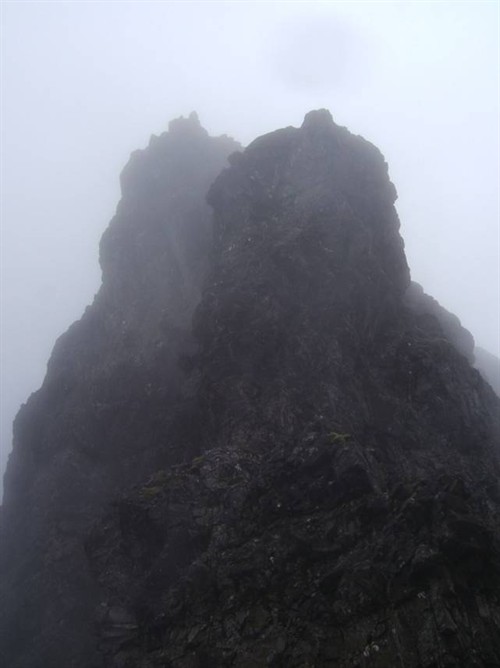 Around Sgurr a'Mhadaidh there was a great section of almost level ridge varying from narrow to very narrow, continuous exposed grade 3 scrambling, with bits where you could balance along the top or cling on and traverse, fantastic fun. In truth all the scrambling we did was reasonably easy, with many juggy holds available where it was exposed. There were a few bits around Mod to Diff but usually in grooves or chimneys so they felt quite secure. The gabbro was so rough in some places it hurt just to put your hand on it lightly. Some easy ways up steep sections were via 'brown staircases' of basalt dykes.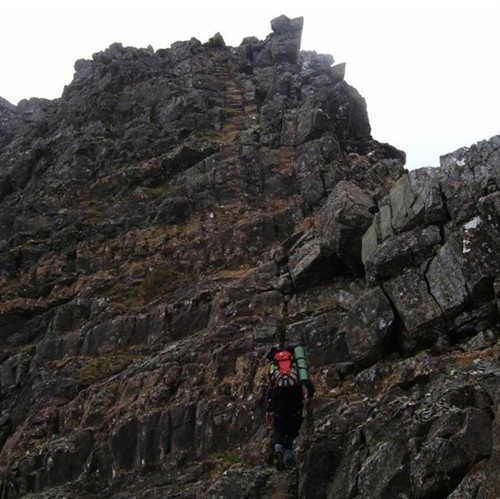 It was quite amusing that the only nav error we made was from the highest top of Bidean Druim nan Ramh where we made exactly the same mistake as on our recce trip 4 days earlier, Dave failing to turn left at the summit. This time we couldn't see where we were going and continued further, eventually reaching a vertical drop with some ab tat on it. As we clung to a totally knife edge ridge with feet smearing or on narrow holds we both agreed that we did not remember this bit of the ridge or the ab tat...then it clicked. Dave's fault for rushing off again.
After this we did not backtrack far enough to take the route recommended in the guide off Bidein Druim nan Ramh summit and had to go round the same exposed slabs on the right that we did on our practice day. Dunc really hated these slabs, but as we were here now Dave decided that the slabs it would be with Dunc reluctantly following (sorry again Dunc!). I would have to owe Dunc a favour or 2 with all my cock-ups (as it was I paid him back later that day - see later).
Tops of Bidean as seen on practice day 1. We abbed into the obvious gap: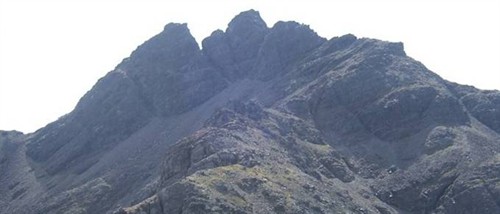 At this point, Dave seemed more positive about us completing the ridge. Dunc was always sure we could do it and only had one point of about 15 minutes where he privately contemplated how easy it would be to descend to Glen Brittle. (Dunc says: I knew it was going to get harder but I have good stamina and serious determination so I figured I would keep going unless my knees failed).
Looking back south (taken on training day but such a nice photo):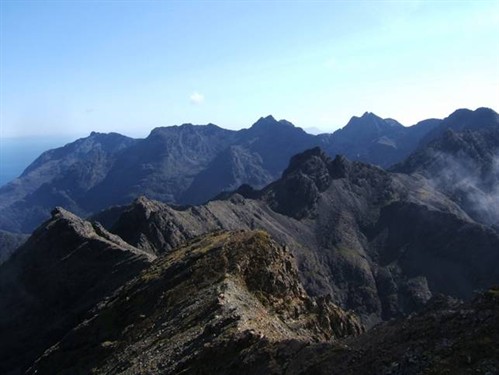 The next section over An Caisteal is very long between summits but has a couple of downclimbs (which we abseiled) and 3 gaps to jump over to liven it up. At this point Dunc was certain we would make it, but Dave was still unsure. However the cloud cleared which was good as we could then see the 'summit', Sgurr nan Gillean, looking fairly close, but not so good in that it got significantly hotter, putting greater strain on our rapidly dwindling water reserves.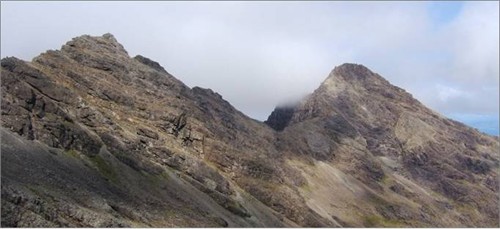 Approaching Bruch na Frithe, for the first time since we started, Dave was sure that he was going to do it.
Dave says: I had been very low on confidence even before we started and all the first day / second morning as I had done it before and knew how hard it was. Dunc's confidence had been high since the off and was now sky high, maybe ignorance was bliss (Dunc says: it certainly was not! I knew it was going to be hard).
It was about 14:00-ish when we started the pull up to Bruach na Frithe which seemed to take an age. At this point we had our only sit down rest of the two days of about 5 minutes. The rest of the time we just kept moving, eating pieces of flapjack, peperami, sesame snaps, fruesli bars and dried fruit as we went.
After Bruach na Frithe is a section of reasonably level walking which felt like bliss at this stage.
But after this came the physically hardest and most soul destroying part of the whole trip. To miss out Naismiths route we had to descend the scree slope down the left side of the Am Bhasteir and take the slog up the steep scree slope to Bealach a'Bhasteir. This was an absolute killer, especially this late in the day.
We dropped our packs at the bealach and went to conquer Am Bhasteir. Dunc tried to tell Dave that we should keep left of the ridge as this bypassed a 'bad step'. But alas, Dave didn't listen and shot off up the ridge with Dunc in slow pursuit, which prevented stopping Dave before he encountered a 3m wall with horrible exposure that needed descending. This was too difficult without gear (about Severe). So we had to backtrack a long way to go the correct way (sorry again Dunc!). All this effort could have been saved by climbing Naismiths route (sorry Dunc!). Anyway Am Basteir was bagged and we returned to the bealach and made the final push to our last peak of the attempt - Sgurr nan Gillean. Alas we both ran out of water at this point. Dunc put some DEET on as the midges were getting troublesome at times then took some ibuprofen to ease his now painful knees.
Dunc was looking forward to Sgurr nan Gillean, one of his favourite mountains which he has previously been up by the so-called 'Tourist Route' and also by Pinnacle Ridge, both times descending the excellent west ridge with its exposed finale.
This time the ascent route was via the west ridge, we elected to use Tooth Chimney (mod). After this you have to negotiate some tricky pinnacles. Dave fairly lept over these. It was only a few minutes after that he remembered that last time he went over these he was so scared that he had to be roped across. (Dave says: Shows how much more confidence that I have got in the last 5 years).
Dunc says: It was a different story for me, I was now very tired so I concentrated on climbing slowly and carefully as my rucksack seemed intent on throwing me off the holds. Dave had disappeared from sight when I got to the top so I guessed he had romped over the top of the three teeth. I eventually caught up and passed him when he went too far right, we met back up again and summited together.
In Hilary / Tensing style, we both summited the last peak together at about 18:00-ish and touched the cairn at the same time. Dunc was overjoyed, Dave was relieved and in disbelief. We didn't take conventional summit photos but captured our shadows in a Brocken Spectre.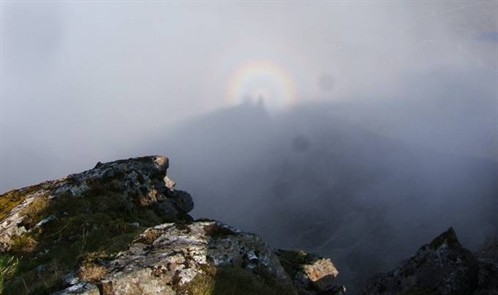 We set off down to Sligachan hoping to get there for a pint and some grub (last food orders was 21:00).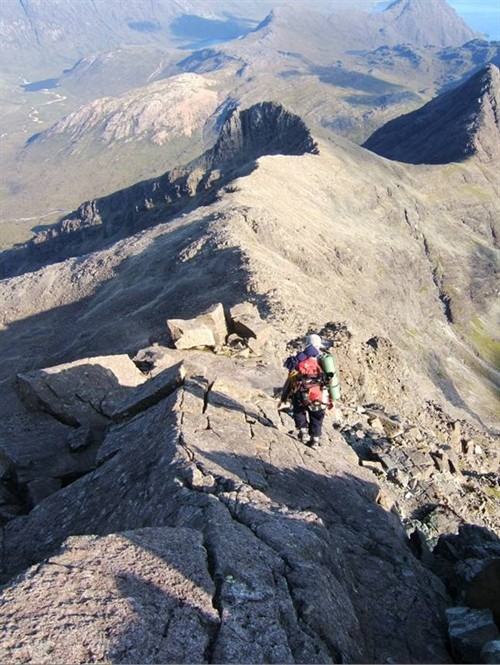 Dave was in a hurry to get to a stream for some much needed water so he took a direct left off the ridge as soon as scrambling turned to walking, resulting in us having to negotiate a nasty boulder field. This was a mistake (sorry again Dunc!), a much better option would have been to continue to the bealach proper then turn left for an easy walking descent. Eventually we got a much needed drink, but the mistake cost us time, and also annoyed Dunc some what (un-necessary knee pounding!). By the time we were down the steep descent out of the coire and on the path back to Sligachan, it was past 20:00, but we still thought that we could do it. But we underestimated the distance, and also Dunc was now flagging badly and was feeling a bit unwell.
Looking south to the 'other' Gars Bheinn, Clac Glas & Blaven: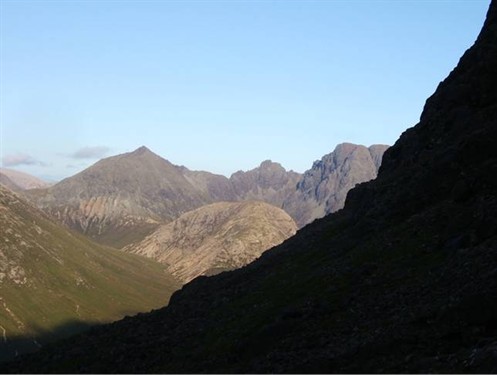 Dunc says: The scramble down the 'Tourist Route' seemed wearing. The determination to complete the ridge was ebbing and letting fatigue through rapidly. When I took the ibuprofen I foolishly did this with DEET on my hands so I may have ingested some, because my stomach started to feel unsettled. The way back seemed to take a long time to level out and even when it did Sligachan still appeared miles away. I drank a little water but my stomach felt so bad I decided not to have any more. I knew I would make it back if I didn't get any worse and just concentrated on using my walking poles to keep the weight off my knees and walking at a pace I could keep up.
Dave says: I was really worried about Dunc now. I now had to keep mentally pushing him to keep the guy going. At one point I though he was not going to make it, but I would have carried the guy the last 2 miles if I had to. I was feeling quite strong surprisingly.
Eventually we reached the campsite at Sligachan about 21:30. Dunc went to the loo while Dave unpacked the sleeping bags. Fortunately Dunc's digestive system seemed normal again so he got into his sleeping bag and drifted off. Meanwhile Dave heroically made a well deserved hot chocolate, so favour returned for all the nav errors! That chocolate tasted gorgeous.
Dunc says: I have never been so tired in my life, my feet felt like they had been beaten with blocks of wood, my knees ached, my fingers were just starting to really hurt from the gabbro and I was really smelly. However I still relished the feeling of having succeeded on the toughest challenge of my life, in one of the most scenic parts of the world.
Dave says: Would I do it again? No. I never want to see that ridge again (well until the next time). Did I enjoy it? Well bits of it. Most of it was sheer endurance rather than enjoyment. However, having had several months for the memory of the pain and suffering to diminish, I now foolishly want to do it again, only next time try to enjoy it more.
Oh by the way, take a look at what the ridge did to Dave's Karrimor shoes that he bought especially for the attempt. They are completely ruined. The man at Sports soccer was aghast at the state of them but agreed to a refund!
Dunc's gear:
Top: baselayer - micro fleece - cheap light gilet - light windproof smock. All used.
Paclite waterproof jacket taken but not used.
Legs: walking trousers; chosen for quick drying, windproof and many pockets.
Feet: KSB boots - chosen for comfort.
Rucksack: 40l climbing sack (absolutley full).
Sleeping bag, light gas stove, light 8' x 10' tarp, cut down sleeping mat.
Climbing gear: minimal rack of med to large size nuts, a size 2 friend (lucky guess!), slings, krabs, belay device, harness.
Walking poles.
2L Hydration bladder.
Sun block, midge repellant, whistle, compass, map.
Daytime food: Flapjacks chopped into quarters and wrapped in clingfilm so they could be stashed in pockets and eaten regularly without stopping. Sesame snap bars. Mixed fruit.
Night food: super noodles and pre-cooked sausage.
Dave's gear:
1 8.5mm half rope
Deuter Guide 45+ rucksack. Bought brand new (unwanted gift) off ebay for £70. RRP £140!
Berghaus active long sleeve base layer
Sprayway nyx goretex jacket
Sprayway 100 micro fleece
Mammut ajungilak tundra sleeping bag
Karrimor event walking shoes (destroyed)
Karrimor polartec gloves
Thinsulate 40g benny hat
Floppy sun hat
Cheapo roll mat (full length)
2L camelbak water bladder
Cheapo knife/fork/spoon set + plastic mug / plate / bowl from Yeomans
Wild country rock lite helmet
Wild country elite ultralite harness (330g!)
Lidl headtorch