LMC Brotherswater (Beetham Cottage) Meet - April 2017
I haven't captured all activities by all attendees but here is a taste of what folks got up to on this most enjoyable meet.
Neil Mc and John arrived in the valley in time to stop off at Gowbarrow a convenient road-side crag (more of this later), they parked up and within the hour had climbed The Whistler (VS) and were back on the road for the final few miles to the hut. An early departure from Lincoln saw J, Rachel, Charlotte and David shoot up Halls Fell Ridge to the summit of Blencathra making it a great start to the weekend. JO and Ron had been resident at the hut for a couple of days and had spent quite some of time drying themselves out, we insisted on bringing them better weather and good fortune. Neil and Mary-Ann arrived during the evening along with Scott who had driven all the way from Aberdeen. Once gathered we descended upon the Brotherswater Inn for a few hours (a mere stumble along the road), this excursion led to a fairly leisurely start on Saturday morning, in part due to the rather damp conditions overhead.
About mid-day the weather improved and then it just got better and better, the brisk wind dispersing the clouds and drying the rock, everyone was encouraged to get up high and sample some of the Eastern Fell tops. Various approaches were made along scenic valleys including west along Dovedale, Deepdale and Grisedale and east towards Hayeswater, many were rewarded with great views across the Lake District even as far as the shimmering Morecombe Bay. JO, Ron, J and Rachel went up Middle Dodd via Red screes; Neil Mc and Scott went up to Dove Crag and lunched at the Priest Hole Cave (witnessing a fine example of 'Schoolboy Nob Art') before descending the Hartsop-above-How ridge; whilst Neil and Mary-Ann went up Helvellyn via Striding Edge (always good fun). John explored the fells above the hut returning via Threshthwaite Cove whilst Charlotte and David opted for an easier day in the shape of a boat trip across Ullswater and a leisurely walk back along the lake side to the hut. On their return Neil and Scott managed to squeeze in a route at Fall Crag, a sunny lump of rock perched on the hillside not far from the hut, for a Severe we found 'Lost Left Sock' quite tricky. On Saturday evening Paul & Ella arrived and we all shared an enjoyable meal in the hut, everyone mucked in to do some of the cooking or clearing up - the beer and wine flowed freely throughout.
As forecast, Sunday dawned blue and sunny with attention now being drawn towards the rock, namely Gowbarrow and Eagle crags. At Gowbarrow Dave's Slab (VD) was enjoyed by all, Shamrock Crack (VD) by some and then Ron led The Whistler (making up his own tree and heather exit version). Neil Mc and Scott used mountain bikes to reduce the Eagle Crag approach and return times and climbed Kestrel Wall (S), Hawkeye (VS) and Sobrenada (VS+), having the whole sunny crag to themselves. It was a bit damp in places so much so that I decided to part company with the 'interesting' chimney on Sobrenada and took an uncharacteristic clatter down the pitch, gear (some) held fine but the bruised thigh ended up being a marvellous array of colours for a few weeks. Scott was even inspired to put poetic pen to paper (Thanks Scott), see below. For future reference, the routes are generally hard to protect well but on the plus side if using a bike you can save 40 mins on the way in and at least 60 mins on the way out (1.5 hr approach quoted).
The weekend was also the occasion of Neil and Mary-Ann's wedding anniversary, they left us on Sunday for a surprise stay in a posh hotel in Borrowdale, congratulations both.
It was great to see friends old and new and to be part of such a warm and sociable meet, the next LMC Lakes meet is in mid-July at Buttermere, be there.
Neil McAllister
Attendees: Neil McAllister, John Turner, John Oaks, Ron Crowe, J Shaw, Rachel Shaw, Charlotte O'Connell, David Smith, Neil Mahon, Mary-Ann Mahon, Scott Herrett, Paul Headland, Ella Headland.
Gift Runners - by Scott Herrett
Sunshine and thorns were overhead,
When in the white tribal south,
The Peak Man once said:
'Don't look a gift runner in the mouth'.
My minds voice repeats this riff,
Ever since my Beeston,
When up high on the cliff,
Cracks, breaks and pockets, they all get a piton.
But, there's been many a standing hair,
Straining upwards from a belay,
Unnecessary, I say. Fraught affairs,
Seeing partners run out, while making hay.
I was there that sunny day,
When the Peak Man flew south,
Cam went ping. Phew! Offset stayed.
Because he didn't look the gift runner in the mouth.
| | |
| --- | --- |
| David, Charlotte & Rachel - Blencathra | Beetham Cottage - Our Accomodation |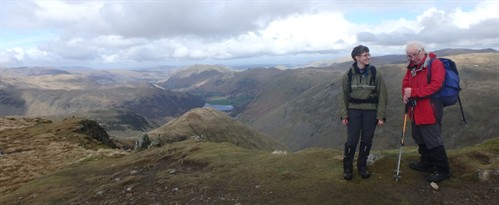 Rachel & JO - Middle Dodd with Ullswater in the distance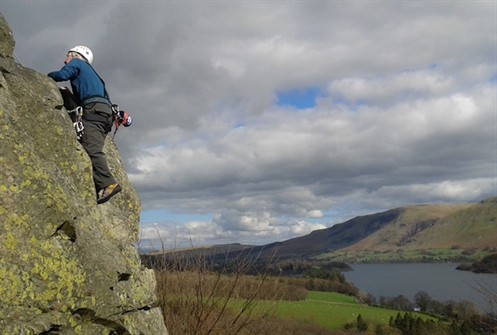 JO - Gowbarrow, Shamrock Crack
(all images attributable to J Shaw)