LMC Langdale (Rawhead Barn) Meet - July 2016
by Neil McAllister
We got there early enough for a scout around so we did just that and headed for Scout Crag a mere 2 minute stroll down the road from the hut. An elderly couple were in the throes of topping out on Cub's Crack so we roped up and I followed on, it was a tad steep and polished at the start but jug pulling soon followed along with Ron a few minutes later. (Note to self, you too are now elderly!). We then sauntered up to Upper Scout Crag and I scrambled up the first pitch of Route 1. Ron led out onto the delightfully exposed arête and padded his way to the top in ever confident style. The last time I was on this route was when my eldest son Craig was 11 years old, some 18 years ago! By now Tim had turned up having and having stretched his legs we decided to head back for tea, Ron though decided he would get some more mileage in in preparation for his up and coming attempt on the Matterhorn.
About an hour later Ron turned up at the hut with tales of being attacked by a swarm of critters (species unknown); he was descending from the crag and disturbed a nest of flying, pointy, stingy things, not wanting to lose his footing or his mobile phone (in hand) he had to stand a while and fight them off. In the meantime about 6 of the blighters had made their way through his defences and stung him good and proper. Having relaxed he was now feeling the effects of said attack, his body was reacting to the shock and an overall aching was setting in, it would take a good day or so for this to subside - bee careful out there!
Friday dawned well if not damp, Dave Burkitt was now with us courtesy of public transport so we headed up Stickle Gill and across Jack's Rake, this route and vantage never seems to disappoint, if only there were more excursions like it. We strolled along to Harrison Stickle, Pike of Stickle and then on the way back diverted to the ODG for refreshments. Dave asked for our pints to be topped up and was asked cheekily by the barman if he happened to be from Yorkshire, not to be outdone Tim asked the same for the next round, although the chap didn't say 'owt' this time.
Friday evening saw the arrival of the remaining team at various times. Phil and Pip had been up to White Ghyll and made the most of their early start from Lincoln having climbed Slip Knot, Moss Wall and The Gordian Knot. J and Rachel had been up to Raven Crag ODG alongside Kath and Marie; the former had made their way up the excellent Original Route whilst the latter ventured onto Evening Wall and then across to East Raven to do Mamba and Ophidia. Alison arrived after a slow journey soon to be followed by Joe and Neil Mahon - all were now aboard.
As forecast Saturday was wet, damn wet! Neil Mc, Ron, Joe, Pip and Alison invoked Plan 'B' and armed with various shapes and sizes of wetsuit headed for Esk Gorge. The journey over Wrynose Pass was not without incident as Ron cussed his way along behind a rather tentative couple in a green Mazda, eventually they pulled over and Ron avoided burning his clutch out. We got changed by the road side pulling and heaving ourselves into the black suits, Ron had resurrected and old military 2 piece number, it was so tight and thick that he could hardly put his arms by his sides. Alison had lent Joe a natty little beach outfit that she last wore when aged 16 in Cornwall, despite the obvious restrictions we managed to prise him in without too much damage to his man-hood. Like the SBS on manoeuvres we made our way steadily to the start of action some 3k up river. The amount of water coming off the hills and being channelled into the gorge was unbelievable, the sheer noise and power was a clear sign that we would have to be very careful. The first lower pool was a taster of what was to come; the force of the water simply picked you up and took you on a virtually unstoppable journey across the boulders (and towards waterfalls). From then on we paid the utmost respect to this torrent and at various points roped up a volunteer to test the conditions. The water below the usual big jumps were cauldrons of bubbling white foam and you could not see the river bed beneath. In drier conditions these drop zones are clear and inviting, today it would be a leap into the unknown and quite simply too much of a risk, we moved on. Most of the time was spent on the right bank looking for entry points, in and out of the water we soon found ourselves at Great Moss the catchment area for the river Esk. We took time to explore and splash about in the shallows before turning and virtually jogging all the way back to the car. This gorge can be a great scrambling expedition and I'm sure we will be back in more suitable conditions, some of those jumps look awesome and are still to be made….
Tim had taken a low level walk around the Langdale valley; Dave had now left to see a mate of his in the North Lakes; whilst Pip, Phil, Kath, Marie had spent the day at Kendal Wall (Lakeland Climbing Centre) for some vertical action, this incredible wall is the highest in the UK and is well worth a visit. J, Rachel and Neil Mahon were in the process of ticking off the Wainwrights and spent an enjoyable day working on the list.
In the evening everyone mucked in and helped to prepare and cook a communal meal of chilli con (and sans) carne, rice, garlic bread and salad, followed by a marvellous Eton Mess (with Maltesers) prepared by Marie. The meal went down well and again there was plenty of help on hand to deal with the clearing and washing up.
Pip had received a bunch of used but really good TNF 'T' shirts from his brother who had now moved on to work for Salewa, the shirts were up for grabs and placed on display at the hut, these freebies were soon snapped up by many on the meet (Thanks Pip).
Sunday started wet but soon cleared and dry rock soon became available. Neil Mc, Alison, Pip and Phil went to Raven Crag Walthwaite and between them climbed Enterprize, Route 2, Proportional Representation, Militant Tendency and Swing to the Right. The final route was Alison's first experience on an E1 which proved steep but rewarding. Tim and Ron had walked from the hut and joined us at the crag about mid-day, they were quite damp after fighting their way through chest high and sopping wet bracken, Neil Mc re-joined these two later at the hut and all 3 stayed another night.
Marie and Kath left Greater Langdale behind and on their way home called in at Wallowbarrow in the Duddon valley to climb the absorbing Wall and Corner, it was seeping a bit in places but found do'able. Neil Mahon went over the top and walked up the pleasant valley of Far Easedale, in the meantime Joe had made a relaxed start and was picked up from the hut soon after mid-day by Neil ready for the journey back south. J and Rachel knocked off another solitary Wainwright - this time Stone Arthur an outlier of the Fairfield horseshoe - before taking a steady drive home in the afternoon, it didn't rain and the weather was kind to them.
This was a great social meet with club members still getting out despite some fairly mixed weather.
Attendees: Neil McAllister, Tim Smith, Ron Crowe, Dave Burkitt, Jonathan Shaw, Rachel Shaw, Marie Skinner, Kath Money, Joe Mills, Neil Mahon, Pip McCarthy, Phil Shaw, Alison Wright.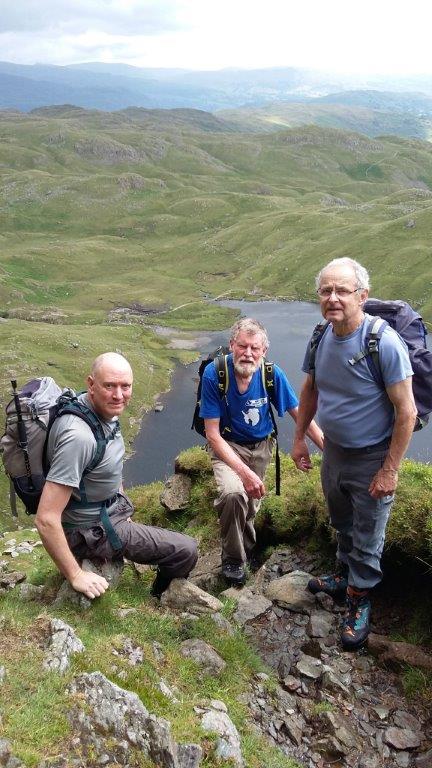 Mountain men on the rake (Tim, Dave & Ron)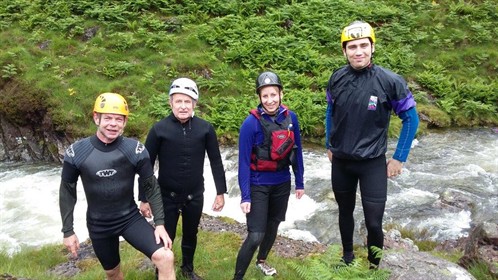 Esk Gorgeous (Pip, Ron, Alison and Joe)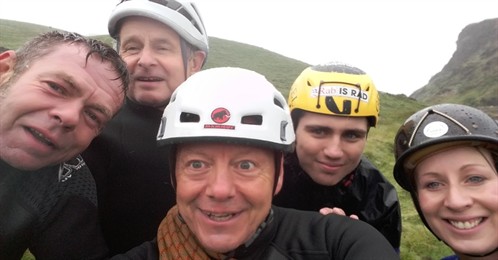 Oh Dear!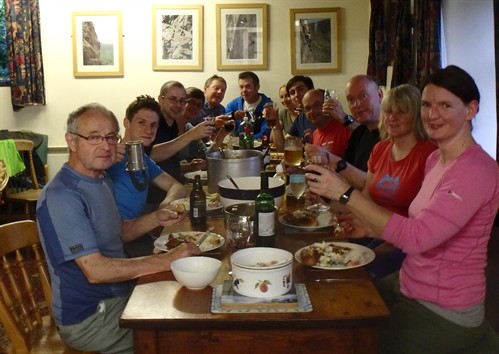 Team Chilli

(Ron, Phil, J, Rachel, Neil Mc, Pip, Alison, Joe, Neil Mahon, Tim, Kath, Marie)