Dreaming of gods - and plain boiled potatoes
By Nick Hill & Pete Moore
It's August 1989, and with great expectation, the LMC Expedition to the Indian Himalayas, arrives at Delhi airport. Within a few days we had arrived in Manali, the hill station to be used for our base in this area. The journey north had started over night and during the next day was interrupted by two unscheduled stops. These were to allow the bulldozers and blasting teams to clear the road of landslip debris blocking the road. We had selected, Deotiba as our first trophy, but as mudslides, fitness, raging rivers gingerly crossed using rope belays, and the late monsoon conspired against us, we finally gave up and returned to Manali.
The next few days were spent deliberating over what we could do, should the monsoon weather not give us any relief. The group split up for a few days, with Nick, JO, Dave and Graham, taking a bus trip over the Rhotang pass, the highest road pass in India, whilst the rest spent time walking around Manali. The NJDG party having shared the bus ride with a prize ram were dropped off at the base of Sissu Nalla. The objective was a high pass between two valleys; Sissu Nalla and one I can't remember. One day in and we're deciphering the landscape and map - having determined the map showed the path over the wrong col. However, altitude got the better of Nick who had a bout of dizziness and double vision. Prudence dictated we lost height back down the valley. Even a photo Nick took of JO and Dave cooking dinner was blurred - or was that just poor light level! Next day we passed two Sheppards smoking pot while sat on the top of their hut. As we descended towards the road and the shelter of a road workers hut, darkness fell.
For the next foray, Nick Pete and John decided to take a trip into another high valley to see if the conditions were any better, Pete feeling quite ill at camp, and only being able to consume the boiled water John and Nick had cooked their vegetables in, the following morning the weather was no better, so we headed off back down to Manali.
Pete and Nick decided to move to a different area, leaving the rest to battle the weather up North. The Gangotri area in the Gharwahl Himalaya was selected. This being several hundred miles further South, and also Gangotri being the most important source of the Ganges. Following two long bus trips we chilled out in Rishikesh for a couple of days before the long and tortuous 12 hour bus ride to Gangotri. The roads becoming more and more like dirt tracks the higher into the Himalayan range we rode. We arrived at Gangotri in mid evening with the light beginning to fail. The aim was to leave the village and walk a little way upstream to camp out. As we passed through the village a small child repeatedly asked if we wanted rooms for the night. We declined and persevered with our hunt for the way out of the village in ever diminishing light - without success. Eventually tiredness from the long journey and frustration made us give in and take the child's offer of accommodation. This ended up actually being the tourist lodge - and quite comfy it was too, albeit basic. The child asked what time we wanted to rise and we agreed maybe 6am to beat the heat of the day. We both slept well.
6am in Gangotri from the room
The next morning - at 6am - the door swung open letting the beautiful crisp mountain air pour in and with the child were cups of tea and fresh fruit. Our eyes adjusted and we saw from the room huge snow capped mountains above the verdant trees. It was a most astonishing sight to wake up to. We made our usual porridge, packed feeling refreshed from the rest, and departed for the 17km trek to the huge Gangotri glacier - the source of the Ganges.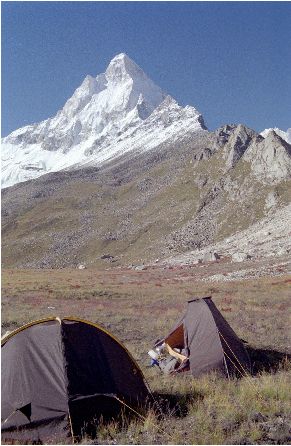 For the long walk up to Tapovan, the weather was fantastic, and the views memorable, as we walked onwards and upwards, with the Bhagirathi group of 20000ft peaks to our left and the Meru Shivling group looming high on our right. At about half way a convenient chai hut served us fresh chai - tea made by boiling loose tea, water, milk and sugar all together and then passing through a sieve into glasses to drink from. Quite refreshing all the same. We ended that day just reaching the snout of the glacier, towering above us, maybe 100ft high. Huge cliffs of ice topped in glacial debris. Now and again, another chunk would come crashing down into the river emanating from its base. The sun quickly set and from wearing light trousers and tee shirts in the strong sunshine we donned all our clothes to ward off the immense cold that fell upon us shortly after.
We arrived at the base camp area for Meru and Shivling early next day at Tapovan (14728 ft), and caused quite a stir, as the area was dotted with large expeditions, and there were Nick and Pete on their own, trying to explain to the various official liaison officers that we were just there to do some walking, and not bag some expensive peaks for free. The scenery was outstanding. Never before had either of us been in an area that had such awe inspiring, almost majestic mountains, crowned by their snowy summits. It was almost overwhelming.
We spent several days camped at Tapovan in glorious conditions, with the highlight being invited up to camp 1 on Meru at over 17,000ft. This was by the expedition camped not far from us, a Barclays Bank sponsored team.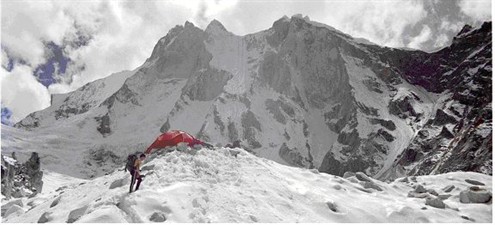 Nick approaching Meru camp1 at over 17,000ft.
Just as we had experienced above Manali, they too were thwarted by a late monsoon and were swimming around in deep powder snow. The next night, back down at our own tents at Tapovan we cooked our last meal - we were about to run out of food so we had to leave. This meal was based on dried mashed potato and a Bachelors dehydrated stew - which we managed to not quite rehydrate. After our last porridge breakfast it was with a heavy heart we packed up and started the long trip back down to the road-head at Gangotri.
What was to end as a long day, we walked in silence, both in contemplation maybe. The walk interrupted by an early lunch stop to consume the very last of our food - soup made from a stock cube and half a packet of biscuits. We spoke briefly, only to discover we'd both had identical, but strange dreams. The gods had lifted us up in their arms and swept us up to their hearts - into the heart of the mountains. Thinking back this was easily imagined when up at Meru camp 1. With Meru behind us, Shivling up on our right and another high ridge on our left - maybe the two arms of the dream. I have certainly never had a dream like it before, or since. Half way along the trek back to Gangotri is the Bhojbasa Ashram of Lal Baba, who provides free food and lodging for pilgrims. Here we gratefully took food and water in return for a small donation.
Back in reality - and in Gangotri - we walked down to the road head where many food stalls awaited to delight us. None too picky by that point, we chose one and ate two fabulous curries each. A veg curry and a dahl. Each served with rice and as many chapattis as we could eat. I'm sure it all cost less that a pound too - for both of us. Next morning was the 7am bus for the long 12 hour ride back to Rishikesh, punctuated by occasional stops at tea stalls where we drank chai and ate samosas.
That evening, back at the hotel and the expedition grime washed off, we ate. I think 3 main courses in all - we were still so hungry from our trip. Nick now particularly "curried-out" from spicy food asked for a bowl of plain boiled potatoes. This they happily provided. Lovely boiled spuds ... smothered with ghee. Between the dining room and the hotel reception there was a small window. Occasionally three faces would appear watching us - possibly in disbelief that two people could eat so much food. It has to be said, a rest on the bed to settle the stomach was needed after that.
Within a week we had returned to Delhi and met up with Dave, John and the rest of the group. The journey alone was quite an adventure with Nick having his passport, flight ticket and camera stolen while asleep on the train - the camera strap still tied to his leg the next morning - but that's another story altogether.
The week before returning home some of us decided to do the tourist trail with various trips including, Amritsar (Golden Temple), Agra (Taj Mahal) Jaipur (Amber Palace, and Palace of winds).
In all, a never to be forgotten time, although the conditions at Manali could have been better, and allowed us to do a bit more actual Mountaineering.

The team was Dave Birkett, John Oaks, Graham Seed, Nick Hill, Pete Moore, John Howe, Andy Hughes and Glen Tricky.