LMC Buttermere Meet (FRCC Birkness Barn): 20 to 24 July 2017
The weather forecast for the weekend was 'mixed', i.e. rain followed by heavy rain but everyone who had signed up for the meet remained optimistic with only one absentee due to an untimely injury. In the end there was a great turnout with 15 of us bedded down in this fine FRCC hut on the shores of Buttermere; all were keen to make the most of their stay and the great opportunities to be had in the area.
We also had the hut booked on Thursday and Sunday nights; this made it a nice long weekend for those that could spare the time. Many folks arrived late on Thursday evening and although it wasn't raining on Friday morning conditions were just too damp for climbing due to the previous night's deluge. After a leisurely breakfast we decided on a walk locally from the hut, the path along the shore took us through the quirky man-made tunnel underneath Hassness then onto Gatesgarth farm and the path up to Scarth Gap. All in all there were 10 of us strung out along the path plus a team of Cockermouth Mountain Rescue guys who were hurrying themselves up the hill to attend to a 47 year old chap with a suspected broken ankle.
We soon reached the pass and turned east to go over Haystacks, by now the wind was noticeable and the rain whipped our faces. Looking back a fluorescent yellow shelter could be seen flapping around below High Crag, within it a casualty receiving welcome attention from a team of well trained volunteers. We topped out and after multiple camera balancing tricks Tom took some team photos before the rain really set in. Our objective was the Dubs Hut for lunch so we bowed our heads into the wind and continued the trek across one of Alfred Wainwright's favourite fells. The hut came into sight as we passed below Great Round Howe where Neil had put some new routes up some 20 years earlier (subsequently it was good to hear reports of further ascents).
Wow, and double wow - the hut was no longer a 'well ventilated' shell with sheep in residence but a proper, nay plush bothy. The Mountain Bothy Association had worked its magic and the building now had a new roof, glass in the windows, camp beds, dining table (laid out with crockery) and chairs plus - get this - a working doorbell and a vacuum cleaner. Someone amongst us did ask where you plugged the domestic appliance in - much to the amusement of others; the nearest electricity was a long way away and you would need one hell of an extension lead. The hut was warm and welcoming but most of all dry, we lingered here for a while and took our time eating butties and emptying thermos flasks. After a while the doorbell rang and in walked 4 sodden youngsters, they had strolled up from Honister Hause, one of them also asked where you plugged the vacuum cleaner in, after a further titter we left them to it and once again stepped out into the rain. We descended rapidly alongside Warnscale Beck and were soon back at the hut to be joined by J and Rachel - who'd had a long diverted journey, plus Kath and Kev - who'd dropped into Keswick Climbing Wall on their way through.
Michael and Tom yearned for some rock action so took an optimistic punt at Moss Crags just up the road/scree from the hut. The crag lived up to its name and Michael found the going far too wet and green for his liking on Flake Out E1 5c. To finish the afternoon off Ron, Michael, Tom and Hannah went down to the lake and took a cooling dip to help liven themselves up before dinner.
After showering everyone set too cooking up a communal evening meal, Neil lead on the chilli, Tim looked after the rice and garlic bread, the Oaks knocked up a large bowl of coleslaw and Kev conjured up a yogurt dip. The whole meal went well, particularly as it was framed by cheesy nachos from Ally and chilli ice cream from the Shaw's. A large party of teachers from Harrogate arrived at the hut (we'd been expecting them) and needed the dining area so we opened up the adjacent Coach House and de-camped there for after dinner drinks and easy chairs.
Guess what, the rain came down heavy on Saturday morning and the LMC team were in no hurry to vacate sleeping bags. Eventually movement was noted with the John, Julie, Ron, Hannah and Ally leading the way by setting off on a long walk around Crummock Water, our sister lake. Neil, Michael, Eugenie, Tom, Kath and Kev went to Keswick for some retailing, little money actually changed hands but Michael did manage to purchase a bargain pair of very bright green and blue trail shoes. We also bumped into Vlad and Matt a couple of Tom's friends from Lincoln Uni (they had travelled up to the Lakes to go ice climbing and were staying in a Travel Lodge!). By now Joe had arrived, and after some hasty BBQ food shopping we assembled at Shepherds Crag car park. Joe, Neil, Kath and Kev fancied finishing off the afternoon at the hut (aka pub) so left the others to the delights of Kransic Crack Direct HVS 5a and MGC E2 5c.
About mid-day on Saturday Tim, J and Rachel had headed down the valley towards Loweswater, they took themselves up Hen Comb returning via a "good bog" (according to Rachel) and a must-do visit to the Kirkstile Inn for beer and medals.
Back at the hut Kath and Neil went for a run around the lake then Neil and Hannah went for a swim in it, Joe took pictures from a safe distance! These three then walked to the pub to join Kath and Kev for a pre-dinner drink or two. On returning from his walk with the others Ron chose to slog up and down the steep sided Robinson, this served as additional training for his forthcoming Alps trip, later on he admitted he'd found it pretty hard going. Unfortunately Ally had to return to Lincoln but she did manage a swim in the lake beforehand and left a large and fine looking chocolate cake to help celebrate Kath's recent birthday, we did try to hide it but our scheming was soon exposed and Kath took rightful ownership.
To cut out the faff we decided to make the BBQ an indoor affair, the previous night's remaining chilli, rice and coleslaw soon vanished along with ample burgers and sausages. The evening was dry and clear so we descended to the lake shore in the dark along with a wheel barrow full of logs and beer. The fire took quickly and everyone gathered around to listen to an eclectic mix of music, including The 1975, Fleetwood Mac, Dolly Parton, Frank Zappa and John Lee Hooker. The acoustics were great, a small Bluetooth speaker was placed in the barrow and made a very effective amplifier, we then 'hung out' until all the wood (and more) was burned and most of the beer was consumed.
The problem of ensuring that the fire embers were extinguished was soon solved by Michael (once we had got him down from the tree). He took his shoes off, rolled his trousers up, grabbed hold of the barrow and simply waded into the lake; having returned with about 5 gallons of Buttermere the fire was soon a steaming soggy pile (which we cleaned up and left no trace of). This was a great end to the day, a very chilled out and fun evening and one that many will remember for some time to come.
Ahhh Sunday - looking dry, looking promising and not too many sore heads either. Neil, Ron and Hannah got a wiggle on and were soon contouring around Grey Knotts on their way to Gillercombe. The navigation was spot on and they arrived directly at the base of Gillercombe Buttress a clean and dry Severe going all 200m to the top of the crag. Seven pitches later the three of them sat down and admired the views across to Great Gable and Scafell beyond. Returning to the rucksacks the first spots of rain were just starting to fall, waterproofs were made ready and they made their way back to the car at Honister slate mine.
Meanwhile Michael, Eugenie, Joe and Tom had headed for Yew Crag Knotts. Eugenie and Joe climbed the rather loose (and scary) Sweep MVS 4b whilst the other two found Substitute E1 5b a bit of a handful being sustained and with fiddly gear. The team eventually retreated to Borrowdale and spent some time driving around looking for other objectives only to be thwarted as the rain swept into the valley.
Also in Borrowdale Kath, Kev, J and Rachel walked up to Glaciated Slabs getting in some old classics including Trod Pimp (the only protectable Severe) before rain stopped play. The best spot of the day was a red squirrel, seen from the path behind the Seatoller carpark.
John, Julie and Tim had left straight from the hut and up Robison, taking in Hindscarth and Dale Head before returning very wet from their high level traverse. As evening came the Oaks headed home (grand children to see), while the remainder of the team spent a leisurely few hours in the bar at The Bridge Inn in Buttermere village.
Monday dawned dry and sunny as forecast, we spent a good hour or so tidying and cleaning up the hut and was out and about by just gone 9.00 am (a record). Everyone headed for Shepherds Crag with Neil jumping on Adam (one of his favourite routes) and then bringing up Hannah and Ron; Hannah said she was pleased to get off the route whilst Ron said he needed more of it!
With great confidence Tom and Eugenie flew up Eve VS 4c; in parallel Michael whooped and hollered his way up True North E2 5b, feeling good to be on such a fine and exhilarating route, Joe was soon hot on his heels. Meanwhile J, Rachel, Kath and Kev were over at Brown Slabs completing a number of classic single pitches on this excellent section of rock. It was now mid-day, Neil was flying out to Santorini for a family holiday the following day so he and Hannah bade farewell and were soon making good progress along the A66.
It was the Michael and Eug's turn to tackle Adam, followed by Tom and Joe, both parties confirming what a superb route it really is. Joe had a good look at PS E1 5b but retreated after a minor epic involving a spindly branch whilst Michael and Eug finished the day in fine overhanging style on Wild Sheep E2 5b, a soaring arête that Mr T has had his eye on for a while - he and it did not disappoint.
Tim and Ron finished off the weekend with as short walk from Shepherds Crag, taking in the much photographed view across Derwent Water from a point close to Ashness Bridge.
Well, this could have been a wash-out weekend but it wasn't by any stretch of the imagination, ok folks had to deal with some wet conditions but hills were scaled, rock was climbed and overall it was a great social gathering of LMC members in a fine part of the lakes, until next time…
Footnote: J and Rachel decided to stay on and moved over to a camp near Braithwaite so they could spend a few more days in the hills.
Attendees: Neil McAllister, Tim Smith, Ron Crowe, Ally Wright, Michael Teanby, Eugenie Blyth, Tom Redwood, Joe Mills, J Shaw, Rachel Shaw, Kath Money, Kev Money, Hannah Watson, John Oaks, Julie Oaks (Vlad Ktitarov and Matt Roope - part).
Neil McAllister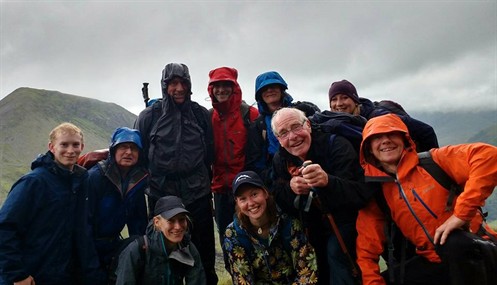 On our way to the Dubs Hut (Bothy).
Back: Tom Redwood, Ron Crowe, Tim Smith, Michael Teanby, Julie Oaks, Ally Wright,
Front: Eugenie Blyth, Hannah Watson, John Oaks, Neil McAllister.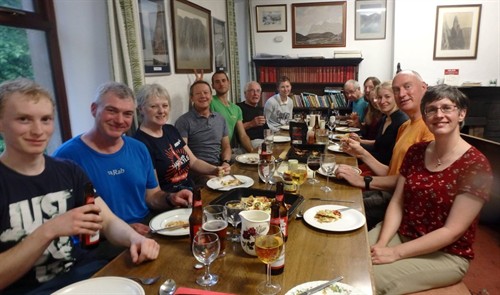 Cheesy Nachos to start with. L to R: Tom Redwood, Kev Money, Kath Money,
Neil McAllister, Michael Teanby, John Oaks, Hannah Watson, Ron Crowe, Julie Oaks,
Ally Wright, Eugenie Blyth, Tim Smith, Rachel Shaw (J Shaw taking photo)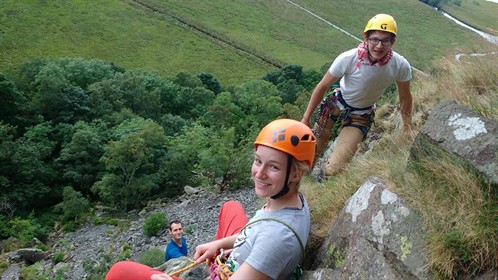 Michael Teanby, Eugenie Blyth and Vlad Ktitarov atop Fisher's Folly Buttress, Shepherds Crag.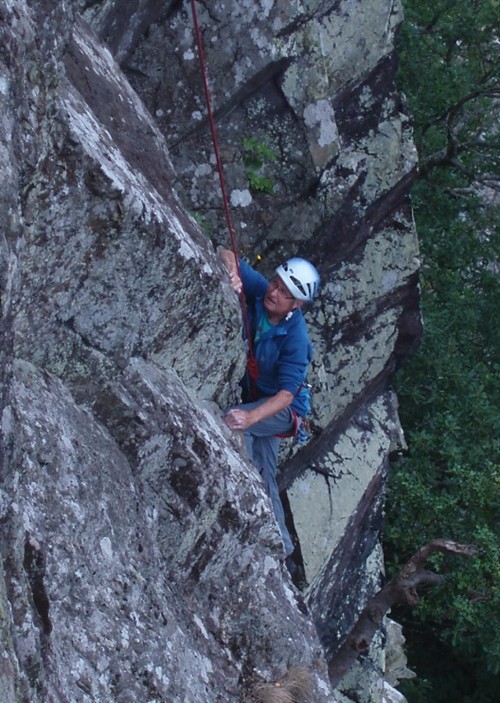 Ron Crowe - Adam (HVS 5a)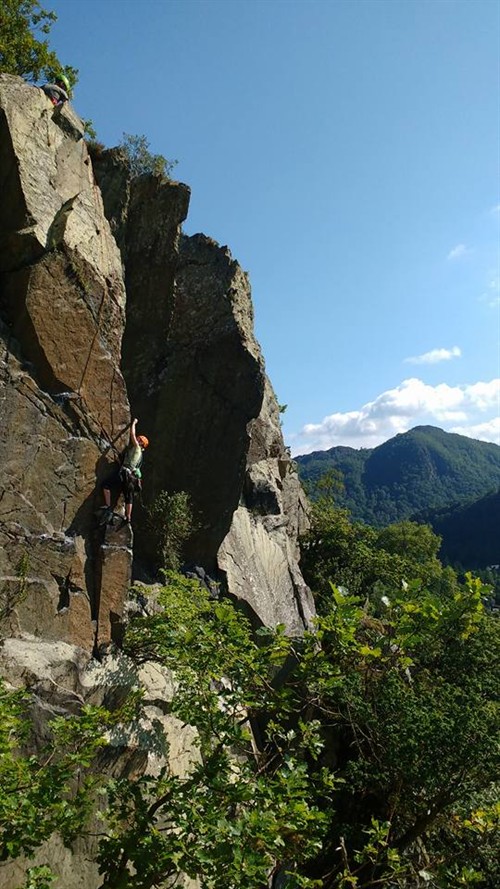 Michael Teanby and Eugenie Blyth - Wild Sheep (E2 5b)
John Oaks - Departing Robinson (Photo by Tim Smith)